We went back to the Vet Cancer Center today for the first time in a week. It was our one week check-up as well as our final appointment. Future check-ups will be done with a neurologist back home. Everyone stopped by our room to say goodbye, and Jordan insisted on being
aloof
about the whole process. Here she is with her radiation doctor: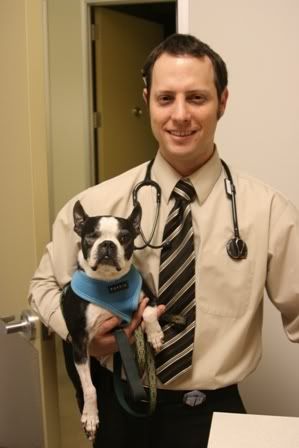 Dr. Lyons & Jordan
We also were very fortunate to cross paths with Honey & her peeps again. Today Honey graduated!
Honey has had an uphill battle against her side-effects, and they will probably be getting worse before they get better, but we are pulling for her!
We hope that eating becomes something fun again and breathing becomes something easy soon...
Honey, Lindsay, Jordan, & Colten
9 nights left in California before Jordan and I get to fly home...