Well we had a great weekend. Leaving town for the day on Saturday was great. I had not been to Dana Point since I spent the night on the Pilgrim Brig in 4th grade (see photo of TT & the boat in last post). This was our 7th anniversary and we think it is only the second one that we have actually celebrated. To mark the occasion we got a room at the St. Regis which was a really ritzy place. I managed to call ahead and had the room decorated with rose petals. Tristan was really surprised, which made me happy of course. She is very, very hard to surprise and they almost gave it away at the front desk but they didn't. It was amusing watching the bellman walk the dog crate into the room while not stepping on a single rose petal.
Jordan was agreeable enough to model the petals on Sunday morning so they could be documented: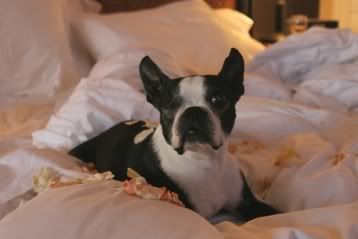 The hotel was amazing. Our room even had a balcony: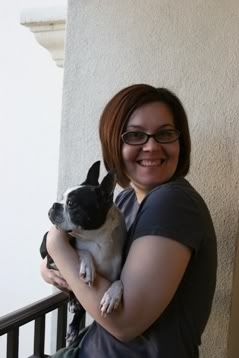 TT & Jordan on our balcony
The balcony over looked the garden of course: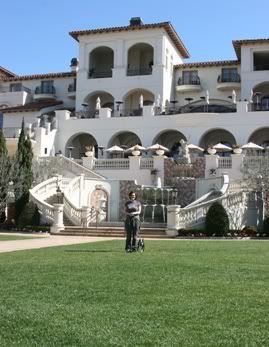 TT & Jordan take a stroll through the upper garden
There was also a botanical garden and some places to walk around... oh and several pools which were all open 24 hours: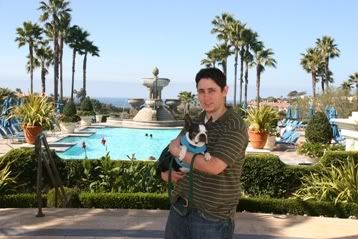 Jordan & I near a pool
So we had a great weekend, TT got me a great anniversary gift, and we have had the chance to be reminded that taking a whole day off (really, no work - not even a little) can be a really healthy thing... especially when you spend it in good company.