When I picked up
Jordan
from the Vet Cancer Group the other day, Amanda, the vet tech who works in radiation and we see most often, said, "You know,
Jordan
doesn't like to be in a cage." I asked her what she meant, and she said, "Well, the first time we put her in a cage after her treatment, she barked her head off, informing us that her accommodations were unacceptable. So, we've made other arrangements for her. Sometimes, she has the run of the radiation area. Sometimes, we put her in an exam room. Usually, we hold her. Like, whichever vet tech isn't doing anything, their job is to hold
Jordan
."
I didn't have the heart to tell her that
Jordan
sleeps in a crate, that she's been in a crate since she was a baby, and is totally used to it.
Jordan
has managed to train the entire staff there to cater to her. I kid you not.
On our way to the car I ran into her doctor, Dr. Lyon, in the parking lot and I quizzed him a little since she seems to be doing so well. He said that she can develop side effects even weeks after the radiation ends, so we still may be in for some tough times. But he admitted that she is "quite a character. She's definitely a very special dog." I mean of course we think she's special, but coming from a guy who sees lots of dogs, that was something. Or maybe he says that to everyone? Well anyway, tomorrow is our anniversary, Colten and I have been together for 7 years! We are celebrating by taking a little trip…we are bringing the patient with us since she has the weekend off from radiation…details to come soon.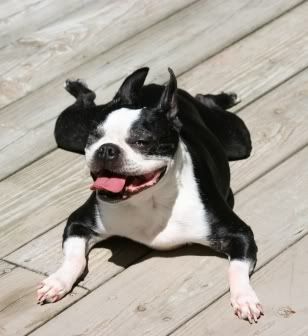 Jordan Love: trainer of people