Today marked the second to last treatment. Jordan was fortunate in that she only needed 16 sessions, and we are thankful that they are just about done. It worked out great for TT and I to have her radiation done in CA and we know Jordan appreciated the much warmer climate during her treatment.
Tomorrow Tristan flies back to NY to finally be at home with the other two dogs, and dig fully into the mountain of work that has been accumulating. Jordan and I are bummed that we can't go back yet, but we need to give her a good couple weeks to let the extra brain swelling from the radiation go down before she has to get on an airplane and fly at 30,000 feet.
To commemorate her second to last day we took a couple pics on Tristan's cell...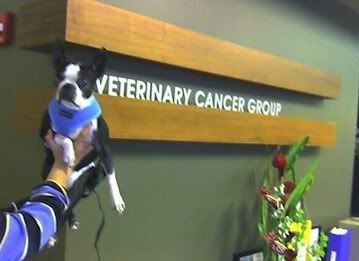 Jordan flying by the VCG sign
And this is Honey. Honey is another regular who is on the same schedule as us so we have seen her almost every day. She is such a sweet, sweet dog. Tristan is totally smitten with her - how could you not be? Between her tumor and the radiation side effects, Honey has had a tough time of late, which was hard to hear. We hope that her side effects ease up and the rest of her radiation goes by quickly! And most of all we hope that things get a whole lot better with her tumor for both her and her people. Jordan didn't get to meet Honey directly, but she assures us that she is rooting for her as well.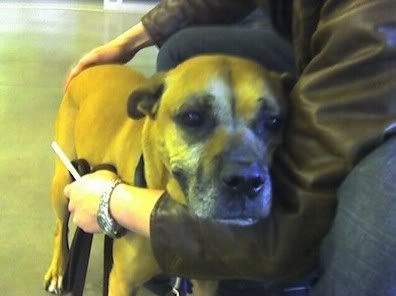 We hope you feel better soon Honey!
On our way home we ran some errands around Pasadena. It was dark and looked like raining, but we some how missed it. We did, however, get a really big rainbow. This is what we could capture on the cell: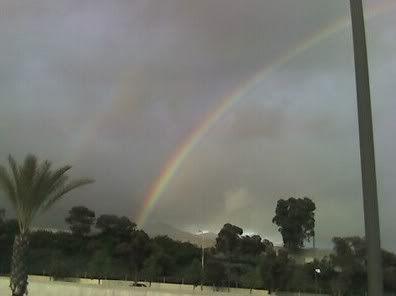 So tomorrow Tristan will be gone, and Jordan and I will have 2 more weeks in CA. Our time will be spent doing a lot of computer work, and spending a lot of time at Grandma's, enjoying the weather while we can, and of course, missing the rest of the pack back home...