To date Jordan has had 5 of the 16 scheduled radiation zapping sessions... a mildly upset lower intestines but otherwise all is well in Jordan land! Today we brought along cupcakes from My Little Cupcake in Studio City to the radiation team at the Vet Cancer Center. They seemed happy and they all know her by name now which is nice...
Earlier this week Jordan came along with us to the first part of our work day which is how she got to meet the lovely Penny Flame: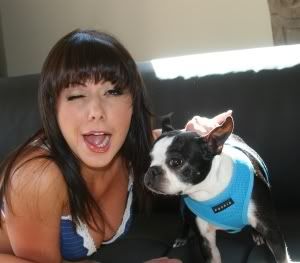 Penny gives us the one-eyed Jordan wink
Penny Flame is a huge dog person and had heard a lot about Jordan (she is co-directing one of the current projects so she has been on set everyday). They instantly got along great.
Penny had a puppy named Lunch Box who was unfortunately one of the many victims who did not make it during the pet food/rat poison fiasco in Spring of 2007. :(
She is planning on adopting a new dog soon though!
One more day of tough work and then we'll have a lot more time to spend with the baby.