With Tristan now out of town I am a single parent to the Flying J and she is milking it for all she can. Last night she gave me the eye from the bed. You know the look... it's her "don't you think I should sleep in the bed tonight look." She was kind enough to let me snap a pic before I agreed to her demands and diaper'd up the pup for the night in the person bed: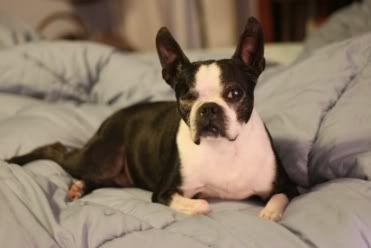 She only got me up twice in the night to bring her a bowl of water at 3am and a trip outside at 5am.
And she has been on me all day today with special requests too.
Pet me, hold me, take me to Trader Joes... I thought it would never end - and then, out of the blue I found myself alone on the couch for the first time all day. I called her a couple times, and I could hear her in the kitchen but I had no idea what she was doing nor why she wouldn't come. I finally got up to check on her and found this: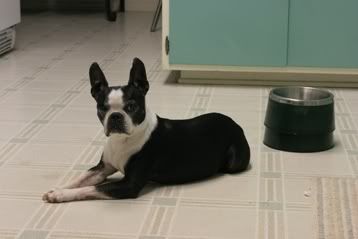 That would be her "I'll wait here until you feed me (and you really should feed me) pose..."
It wasn't a meal time, but how could I resist? One bowl of sloppy prescription wet food coming right up.
I've got 16 more days before I head home, let's hope I eventually get to have the upper hand in this relationship.