We dropped Jordan off at the doctors today for her first treatment. Today is the longest appointment as they line up their instruments and draw maps on her head. She was sort of nonchalant about the whole thing - casually saying hello to the vet techs and giving a strong one eyed stare to the three-legged german shephard that walked past us.
Because of the timing of her appointment and the timing of our work she is spending the night at the center and we pick her up tomorrow after her second treatment.
Since today was the last day for her to have a regular hair-do (shaving tomorrow, and then loss of the hair with radiation) we of course took some pics...
First up, Jordan snuggles with her new blanky that we got & decorated for her to take the hospital each day:
This is a pic of Jordan and I just before going into the Vet Cancer Center: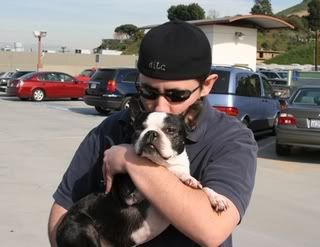 More news when we pick the baby up tomorrow!